Shire Scenes 1/72 Luggage Trollies
Sorry, this product is temporarily out of stock.
 Shire Scenes 1/72 luggage trollies diorama accessories. Made from photo - etched brass. Kit contains 3 trolleys, 2 different types. Great for dioramas and vignettes. When ordering, remember that it's the price of the item plus shipping, that should be taken into account when judging the value of an item.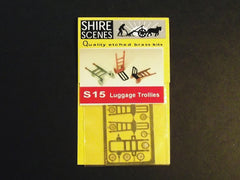 + CLICK IMAGE TO ZOOM