F-Toys 1/350 Thunderbird 1
 F-Toys 1/350 TB1 science fiction model kit. Build a replica from the Gerry Anderson science-fiction T.V. series "Thunderbirds". Plastic kit is pre-painted and can be assembled in the landed or in-flight positions. Water slide decals and display stand included. Some gluing required.
 When ordering, remember that it's the price of the item plus shipping, that should be taken into account when judging the value of an item.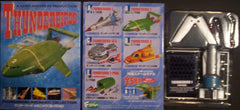 + CLICK IMAGE TO ZOOM