Shire Scenes 1/72 Bicycles (8)
Sorry, this product is temporarily out of stock.
 Shire Scenes 1/72 bicycles (8). Photo - etched diorama accessories kit comes with 5 types of bikes and jewel lens headlights. Great for WW 1 and WW 2 dioramas or vignettes. When ordering, remember that it's the price of the item plus shipping, that should be taken into account when judging the value of an item.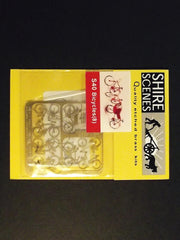 + CLICK IMAGE TO ZOOM