Scale Link 1/72 1920 - 30 Garage Accessories
Sorry, this product is temporarily out of stock.
 Scale Link 1/72 1920 - 30 garage diorama accessories. Kit contains 11 metal castings including 3 gas pumps with hoses and fittings, 1 jack, 1 tire pump, and 1 oil cabinet. Suitable for any pre-WW 2 or WW 2 diorama. When ordering, remember that it's the price of the item plus shipping, that should be taken into account when judging the value of an item.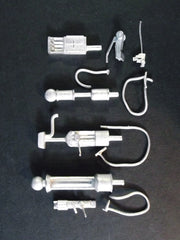 + CLICK IMAGE TO ZOOM