Patto's 1/64 / HO DBR9 GT3 Gulf #007 2008 Decals
Sorry, this product is temporarily out of stock.
Patto's 1/64 / HO slot car decals, Aston Martin DBR9 GT3 Gulf #007 2008. This waterslide decal set is designed to fit 1/64 scale models, but will fit AFX, FCH, etc. slot cars with a bit of trimming and adjustment. They're of the highest quality and accuracy. Some colors may not be an exact match to the prototype due to the limitations of the printing process.
 Since this decal set is a complicated body wrap and might not fit properly, I recommend painting the car light blue to match the color on the decal sheet. Then cut out the sponsors and stripes from the wrap and apply.
 When ordering, remember that it's the price of the item plus shipping, that should be considered when judging the value of an item.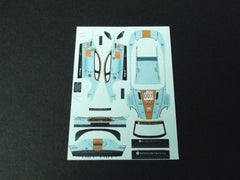 + CLICK IMAGE TO ZOOM