JTT - Wild Grassland Tuffs
Sorry, this product is temporarily out of stock.
 JTT Wild Grassland tuffs scenic material. 5" (12.7 cm) x 7" (17.8 cm) sheet which can be torn or cut to the exact size you need, and can be shaped to regular or irregular contours. The smooth, flexible material fits into various terrain areas and can be easily glued to your diorama, slot car layout, or display base. The tuffs can also be taken off the sheet and applied individually to your groundwork.
 When ordering, remember that it's the price of the item plus shipping, that should be taken into account when judging the value of an item.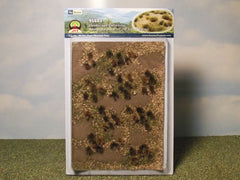 + CLICK IMAGE TO ZOOM