1/64 Slot Car Modular Pit Garage Expansion Kit by FCH
1/64 / HO slot car Modular Pit Garage Expansion Kit designed and cast in resin by Full Circle Hobbies' owner David Gurinskas. Requires some sanding of parts, assembly, and painting. 12 Expansion Kit parts in total. 9 high quality white polyurethane resin parts; 1 inside wall, 1 Paddock wall, 1 Paddock wall walkway, 1 walkway end piece, 2 front pieces, 1 garage divider, 1 roof vent, and 1 air conditioning unit. Plastic parts consist of 1 garage ceiling / V.I.P. Lounge floor, 1 V.I.P. ceiling / roof, and 1 clear V.I.P. Lounge window.
 Instructions for preparing resin parts for painting, assembly, and painting are only included with the Modular Pit Garage Core Unit.
 The Modular Pit Garage Kit Core Unit only needs to be purchased once. It's large enough to accommodate one racing team of two cars and their equipment. To expand the number of garage stalls, any number of the Modular Pit Garage Expansion Kits can be added to the Core Unit depending on how long you want the pit garage building. Each Expansion Kit can also accommodate one racing team of two cars, and their equipment. The Core Unit and Expansion Kit (s) do not include a base, and can be mounted to MDF, expanded foam sheet, or directly on a track layout surface.
 The Pit Garage Expansion Kit footprint is 6" wide x 6" deep (7 1/4" including Paddock Balcony) x 4 1/2" high.
 Detailed features include realistic brick textures on the inside and outside walls, detailed Paddock rollup garage door in the closed position, ribbed aluminum textures on walkway and front supports, Pit Lane garage door in the open position, garage interior light switches and main power boxes mounted to the inside walls, panoramic V.I.P. Lounge Pit Lane window, and a highly detailed roof air conditioning unit with vent.
 This kit won't be affected by humidity like printed card stock, or die cut wood kits making it excellent for any size of slot car layout, or 1/64 / HO scale diorama.
 When ordering, remember that it's the price of the item plus shipping, that should be considered when judging the value of an item.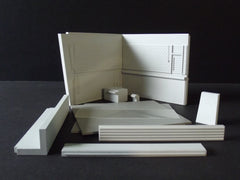 + CLICK IMAGE TO ZOOM